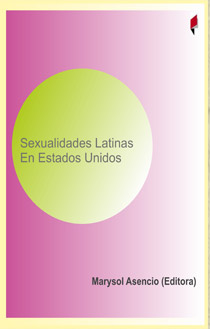 Part of the
2016
series:
Sexualidades Latinas en Estados Unidos
ISBN:
9789381043219
Binding:
Kindle
(Spanish)
Year:
Sexualidades Latinas en Estados Unidos  is an anthology addressing key areas of research, scholarship, and critical discourses in the understanding of Latina/os and their sexualities within the United States.
Latina/os are the largest racial/ethnic minority group in the United States. Numerically, they represent a population that is currently larger than the entire populations of Canada, Spain, or most Caribbean and Latin American countries. Yet, there continues to be limited and skewed understanding of their sexualities.
Through a Ford Foundation funded project, over 30 authors from a variety of disciplines and fields including history, psychology, sociology, public health, media studies, ethnic and cultural studies, literature and language, as well as artists and practitioners, were commissioned to map and critique the state of knowledge on Latina/o sexualities in the United States within their areas of expertise. The resultant chapters contribute to both specific topics as well as general knowledge on Latina/o sexualities.
Utilising the available research on Latina/os in the United States, this edited volume addresses what is known, imagined, or remains invisible in the study of Latinos and their sexualities. The excellence of the scholarship throughout the volume is exemplified by one of the chapters on Latino/Latin American male same-sex desire receiving the Latin American Studies Association, Sexuality Studies Section's Carlos Monsiváis Award for the best academic essay in the social sciences. The volume, available for the first time in Spanish, is intended to increase accessibility to critical information and debates on issues of gender and sexuality among Latina/os in the United States throughout the Caribbean, Latin America, and Spain as well as globally.
The critique provides foundational knowledge that can be used by students, scholars, service-providers, and policymakers as well as the general public.
Marysol Asencio is a professor of Latina/o, Caribbean, and Latin American Studies as well as human development and family studies at the University of Connecticut, USA. She received her doctoral degree from Columbia University. Her main research interests focus on Latina/o sexualities and its interrelationship with social and health inequities. She has been awarded a Social Science Research Council Sexuality Research Fellowship and a Ford Foundation grant as well as other external and internal grants to advance scholarship and training on Latina/os, sexualities, and/or health.