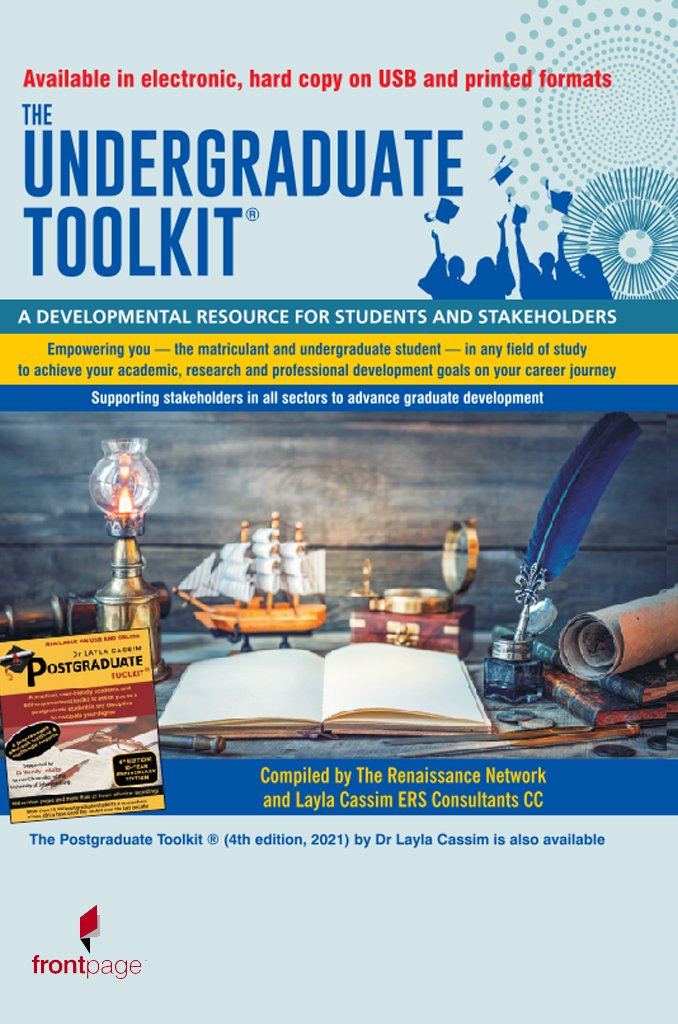 ISBN:
9780620984126
Binding:
Paperback
Size:
210

x

270

mm
Pages:
886
The Undergraduate Toolkit: A Developmental Resource for Students and Stakeholders was launched online in Johannesburg, South Africa, on 22 April 2022. It has been developed by The Renaissance Network and Dr Layla Cassim. This textbook is available electronically and in a printed format.
The Undergraduate Toolkit empowers undergraduate students in any field of study to achieve their academic, research and professional development goals on their career journey. It also provides secondary school students with insightful information on higher education that guides them in effectively embracing their tertiary studies. The Toolkit is structured in six distinct parts aimed at diverse reading audiences that include key stakeholder users and/ or promoters of such a self-empowerment learning resource from different sectors of society.
In order to facilitate an effective transition between secondary school and university, and then between university and the world of work for young professionals, carefully selected topics have been covered in the Toolkit that empower students with the knowledge and skills to bridge both these gaps with more ease. The Toolkit covers a range of academic concepts and holistically addresses quality of life challenges that often undermine students' academic performance.
An overview of the contents of the Toolkit is as follows:
Part A Anchoring YOU - the Undergraduate Student – for Success on your Academic and Career Development Journey:
Chapters of Part A
Chapter 1 Introduction
Chapter 2 Sharing my Undergraduate Story with You by Rieaz Cassim
Chapter 3 Navigating the Toolkit for Optimal Results
Chapter 4 Potential Funding for Tertiary Studies
Chapter 5 Orientation and Transitioning to Academic Life
Chapter 6 Mentorship as a Developmental Resource
Chapter 7 An Undergraduate Learning and Development Contract
Chapter 8 Reading: A Catalyst for Continuous Improvement by Dr Layla Cassim
Chapter 9 Academic Writing and Formatting Tips by Dr Layla Cassim
Chapter 10 Learning and Study Guidelines by Rieaz Cassim
Chapter 11 Welcome to the World of Research by Dr Layla Cassim
Chapter 12 The Invaluable Role of Library Support Services
Chapter 13 Grievance-handling and Conflict Resolution
Chapter 14 Optimal Well-being and Self-care by Dr Layla Cassim
Chapter 15 Self-management for Success by Dr Edna Rooth
Chapter 16 Getting to Know your Professional Body
Chapter 17 Preparing for the Passage into the World of Work
Chapter 18 Students with Disabilities: Overcoming Ableism to Succeed in your Studies by Dr Meryl du Plessis
Part B A call to internal stakeholders within institutions of higher learning & research organisations:
Enriching your supportive role to accelerate undergraduate success
Part C A partnership with promoters and funders in the public, private and civil society sectors:
A resource to maximise your investment in graduate development
Part D Personal testimonies and words of wisdom from seasoned professionals
Part E Insights and experiences of tertiary studies and career journeys shared by early and maturing career professionals
Part F User's Feedback Form
Benefits of the Toolkit for students include:

(i) It aims to equip students with academic preparedness skills that can help them to successfully complete their degrees, diplomas or certificate courses.
(ii) It seeks to empower students to address key quality of life challenges that can often undermine their academic performance and progress, such as health-related problems, stress, financial difficulties, poor time management and possible disputes.
(iii) It introduces students to the fundamental principles of research, and thus could assist them to prepare for future postgraduate studies and research projects.
(iv) It offers students invaluable tips on improving their reading, writing, adult learning and study skills to advance their scholarly pursuits.
(v) It exposes students to the age-old tool of mentorship, through which they can fast-track their academic, personal and professional development under the care and guidance of a supportive mentor and/ or coach.
(vi) It emphasises the integral role of the library to deepen their knowledge of subject matter that they are studying.
(vii) It presents students with beneficial strategies and action steps to promote self-discovery and self-management for success.
(viii) It provides students with numerous opportunities to undertake personal reflection and introspection with practical exercises that heighten their self-awareness and self-empowerment whilst challenging them to seek ways to continually improve themselves in key facets of their lives.
(ix) It highlights key transitional steps for students that will facilitate their smooth entry into the world of work.
(x) It provides guidance on resources that students may access if they are or become disabled and that may support them to overcome barriers that prevent their advancement or that of persons with disabilities in general.
For information on the contents of this Toolkit, visit: https://youtu.be/S-DVFj-mxUQ
A User's Appraisal: Ms Sadiyah Symallon from Stellenbosch University, South Africa https://youtube.com/shorts/wA2vO4qnZaM
Views shared by Ms Karusha Naicker, a parent of an undergraduate student, https://youtu.be/3EYteUP_7ug
Published Price: $ 149.95; INR 6,995 £ 119.95
Online Buying Price: $ 149.95; INR 6,995 £ 119.95 (Free door-delivery by courier)